Author Archives: Sean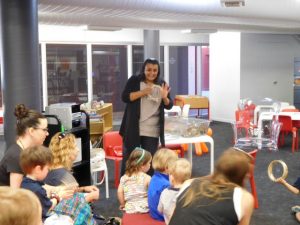 Music for Little Ears at Orange Library
When: 6 weeks each school term on Wednesday and Friday, 10.00—10.20
Ages: 0-5
Sessions initiate little ears to classical music, singing, percussion, dancing and musical games.
In partnership with the Orange Regional Conservatorium.
Bookings are essential.
There is a limit of 20 to these sessions.
Book online or phone 6393 8132
Library on the Go
Orange Library
Book online
Technology skills sessions for seniors using mobile devices.
Weekly on Thursday
For 1 hour from 3pm – 4pm
Bookings essential – sessions limited to six participants
Free to library members
Bring your device if you have one. If you do not, we have some ipads and Galaxy tablets.