Morris Gleitzman had a Soccer Dream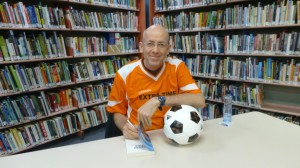 Like most of us children's author Morris Gleitzman had a dream. His dream was to one day be a professional soccer player and be paid oodles of cash but there was just one problem – he was lousy at soccer.  So began Morris Gleitzman's talk to school children and the community during his visit to Orange City Library.  He read from his latest book Extra Time about – yes – you guessed it – a soccer star and his ten-year-old sister manager taking on the world. (Morris' soccer dream did come true).
Morris talked about writing and answered lots of questions from the audience in an entertaining way. Here's a photo of Morris signing books in his own Orange soccer shirt and below he is asking everyone who plays soccer? The event was supported by Collins Booksellers and Morris generously stayed beyond his planned visiting time to sign books and meet his fans. Thank you to everyone who came along.