Banjo Words on Display for Festival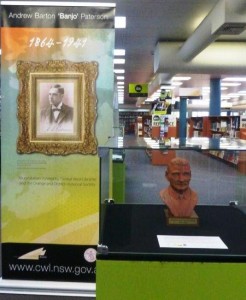 Discover words relating to Orange's favourite son Andrew 'Banjo' Paterson at Orange City Library with a display during the Banjo Paterson Festival. It features selected items on loan from the State Library of NSW and includes a signed copy of The Man From Snowy River, a limited edition Banjo Bust by sculptor Michael Lewis,   an original watercolour by local award winning book illustrator Freya Blackwood,  an original manuscript of The Reveille – a poem written in 1899 when Banjo went to the South African War, and a First Edition of The Man From Snowy River.
The Library is also selling Banjo booklets produced by The Rotary Club of Orange about the relocation of Emmaville Cottage and the property Narrambla for $3 per copy. The display will continue during the Banjo Festival from 7th to 17th February.