October Good Reading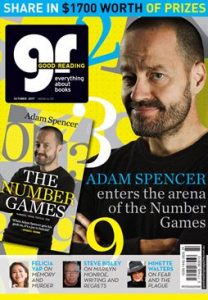 Use your library card to access Good Reading magazine online via the Central West Libraries website. It is full of book reviews, author interviews and recommended reads and is a must for readers and book lovers.
Enter the arena of The Number Games, as comedian, radio presenter and number nerd Adam Spencer fascinates us with figures and recalls the time he ditched a maths PhD to host triple j's breakfast show. Sit down with Felicia Yap, author of the new thriller, Yesterday, in which characters with severely limited memories must solve the mysteries surrounding a body that has been pulled out of an English river. Graeme Simsion, author of The Rosie Project, and Anne Buist – the husband-and-wife writing duo who collaborated on Two Steps Forward – tell us about their reading lives. Find out about Steve Bisley's new memoir, All the Burning Bridges, and read a book bite from The Styx, Patricia Holland's new novel dedicated to her late daughter who suffered from Rett syndrome.