home
Welcome to Central West Libraries Online
A warm welcome awaits you at all branches of Central West Libraries. No matter what your age we have a wide range of resources, programs and services to meet your needs.
Our libraries are places where everyone can feel at home and our friendly, expert staff are on hand to assist. Can't get to the library? Talk to us about our Home Library service or visit our virtual library which is open 24/7.
Enjoy your library and take advantage of all that it has to offer.
Opening Hours
Check opening times
Login to My Library Account
After the snow and rain comes the sun and Spring! A time for celebration, books and events. During Literacy and Numeracy Week we are launching the Ten Minutes A Day Program encouraging parents and carers to read to children. We will be congratulating local illustrator Freya Blackwood on her recent success in the Children's Book Council of Australia Awards during her talk at Orange City Library on Wednesday 2nd September at 4pm. This month our Pageturners Book Discussion group hosts Mitchell Librarian Richard Neville to talk about the judging of the Miles Franklin Literary Awards on Thursday 10th September at 5.30pm. Our Library on the Go classes for seniors returns and then there's the Ageing Well Expo on 23 September. So lots happening and we look forward to seeing you.
The Centenary of World War I Poppy Project
What is the Poppy Project?
Inspired by the Victorian 5000 Poppies initiative, CWL staff and families started creating poppies some months ago. A few grew into a field and we decided to ask the community to help us make a poppy for every serviceman and woman from Orange and surrounding districts. Want to help? Download your Poppy Pack, hand make one or more knitted, crocheted, sewn or felted poppies and drop in to the library.
From the blog...
During the Reading Hour.....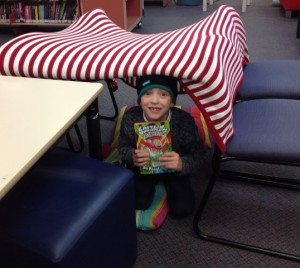 Ben read Captain Underpants What happened during the Reading Hour? It was a special night in … Read more…