home
Welcome to Central West Libraries Online
A warm welcome awaits you at all branches of Central West Libraries. No matter what your age we have a wide range of resources, programs and services to meet your needs.
Our libraries are places where everyone can feel at home and our friendly, expert staff are on hand to assist. Can't get to the library? Talk to us about our Home Library service or visit our virtual library which is open 24/7.
Enjoy your library and all that it has to offer.
Opening Hours
Check opening times
Login to My Library Account
 September
Welcome Spring, and we are taking on the theme Neighbours from the History Council of NSW. The theme of neighbours is crucial to our understanding of the past's impact on the present. It includes stories of individuals, families and communities living near one another and links between adjoining suburbs, regions and countries.
Coming up are school holiday activities at Orange City Library: Papermaking on  Wednesday 5th October at 10am and Cardboard Challenge II on Thursday 6th & Friday 7th October. For bookings go to eventbrite.com or call 6393 8132.
At Cowra Library children can join in Kids Can Do ….Fun Desserts on Thursday 6th October from 10am – 12 noon. For bookings call 6340 2180.
 

Library on the GO

Technology skills for seniors is starting again at Orange Library.
Sessions will be held fortnightly on Tuesdays at 11am starting from the 2nd August.
Banjo Paterson Writing Awards
Winning entries can be read on the Orange Wiki
From the blog...
Knitting and Crocheting Fun at Orange City Library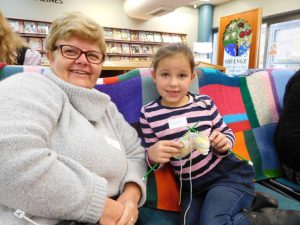 Children enjoyed learning how to knit and crochet in this School Holiday session with volunteer knitters Orange Purlers. Thank you everyone for taking part and good luck with your creations!