home
Welcome to Central West Libraries Online
A warm welcome awaits you at all branches of Central West Libraries. No matter what your age we have a wide range of resources, programs and services to meet your needs.
Our libraries are places where everyone can feel at home and our friendly, expert staff are on hand to assist. Can't get to the library? Talk to us about our Home Library service or visit our virtual library which is open 24/7.
Enjoy your library and all that it has to offer.
Opening Hours
Check opening times
Login to My Library Account

Banjo Paterson Writing Awards
Winners will be announced at the Orange Readers and Writers Festival at the Hotel Canobolas on 28 May 2018 and published on this website. The winners of the previous Banjo Paterson Writing Awards can be read on the Orange Wiki.
Orange Readers and Writers Festival: Read, Savour Explore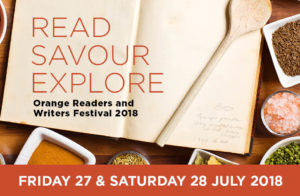 Food and travel combine to make a mouth-watering theme for the 4th annual Orange Readers and Writers Festival program on Friday 27 and Saturday 28 July 2018 at the Hotel Canobolas. Be ready to be entertained by the fabulous Monday Morning Cooking Club, Paris dreamer Katrina Lawrence, Margaret Fulton's granddaughter and cookbook author Louise Keats, gastronmer Jacqui Newling, author Anthony Hill, writer Sophie Hansen and Better Reading's Cheryl Akle.
And for writers we have a blogging e-newsletter workshop with Local is Lovely blogger Sophie Hansen. This workshop is now full.
 Touring Tastes: exploring histories of Australian food and culture is an all day event with the History Council of NSW where you will be taken from the bush to the battlefield, from beaches to benchtops, and through the pages of cookbooks and magazines with experts to explore Australian food and travel habits.
And we will also be announcing the winners of the Banjo Paterson Writing Awards. So come and join us for what promises to be some delicious literary delights. Program and bookings here.
News and events
To keep up to date with the latest library news and events please follow Central West Libraries on the blog, facebook , instagram or check Eventbrite.com for event listings.
From the blog...
2018 Readers and Writers Festival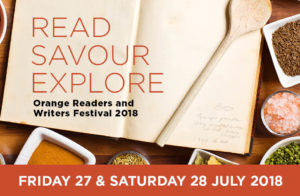 Food and travel combine to make a mouth-watering theme for the Orange Readers and Writers Festival on Friday 27 and Saturday 28 July 2018 at the Hotel Canobolas. Be ready to be entertained by the fabulous Monday Morning Cooking Club … Read more…