home
Welcome to Central West Libraries Online
A warm welcome awaits you at all branches of Central West Libraries. No matter what your age we have a wide range of resources, programs and services to meet your needs.
Our libraries are places where everyone can feel at home and our friendly, expert staff are on hand to assist. Can't get to the library? Talk to us about our Home Library service or visit our virtual library which is open 24/7.
Have you discovered what is available online? Click here.
Enjoy your library and take advantage of all that it has to offer.
Opening Hours
Check opening times
Login to My Library Account
Ten Minutes a Day
Orange library is launching an exciting new programme to help you to develop your baby's pre-literacy skills and get them on the right track for reading and language development.
Ten Minutes a Day is a series of workshops that you share with your child of 0-2 that will help you develop skills to enhance language development, your child's imagination, and make reading to your child part of your everyday routine.
Starts 2nd May. Book online or over the phone 6393 8132.
April
is Act Belong Commit month. Being active, having a sense of belonging and having a purpose in life all contribute to happiness and good mental health. Keep mentally, physically, socially and spiritually active: take a walk, say g'day, read or listen to a book, do a crossword, dance, play cards, stop for a chat…
Library on the GO
Technology skills for seniors is starting again at Orange Library.
Sessions will be held on Tuesdays at 11am starting from the 26th April.
Comic Book Workshop Video
Check out our Comic Book Workshop Video supported by Arts NSW.
From the blog...
What Age Should I Start? Ten Minutes a Day Tip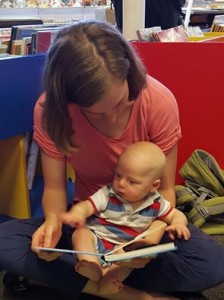 *A new baby will love being held and hearing your voice, so start as early as possible. *By two months babies are able to distinguish patterns and respond to highly contrasting colours. This is the time to introduce bright, simple … Read more…