home
Welcome to Central West Libraries Online
Here you will find details of our locations and opening hours; our collections, services, facilities and special programs.
Use our links to go to selected Internet sites. You can even get help with your research by using the Ask the Library online reference service. Get help with your homework from trained, professional tutors with our new online service.
Opening Hours
Check opening times

Login to My Library Account
ebooks are here!
Your Central West Libraries card gives you access to a range of ebooks anywhere, anytime. To borrow, download and read your chosen ebook, check that your device accepts the ePub format and, when asked, create an account with our partner suppliers.
Tell us what you would like by completing this survey. Thank you. Enjoy.
Summer Reading Club – Take the Investigation Challenge!
Registrations are now open for Summer Reading Club at your  library. Call in to collect your registration kit and begin the investigation challenge.   And check out activities on the website www.summerreadingclub.org.au
From the blog...
Cowra Volunteers Celebrated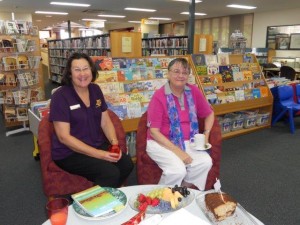 Congratulations to all our volunteers – we really appreciate your support! At Cowra International Volunteers Day, celebrations included a morning tea, catching up with Library services and technology and a warm hearted thank you for all their efforts during the year. … Read more…