home
Welcome to Central West Libraries Online
Here you will find details of our locations and opening hours; our collections, services, facilities and special programs. Use our links to go to selected Internet sites. You can even get help with your research by using the Ask the Library online reference service. Get help with your homework from trained, professional tutors with our new online service.
Opening Hours
Check opening times
Login to My Library Account
Summer Reading Club

Deep into space, through dense jungle, delving into ancient ruins, traipsing through time – wherever your adventure may be it is sure to be found in a book. Holiday time is the right time for reading! A Central West Libraries card is the key to sign on as an Adventurer. Adventure Packs for pre-school, primary and secondary school children are available from all Central West Libraries branches and include invaluable tools to help with reading quests. The more adventures (books that are read) the more rewards are available. For each 5 books read adventurers will get a library rewards card. You can also download a pack and get into the spirit online.
The Centenary of WWI Poppy Project
What is the Poppy Project?
Inspired by the Victorian 5000 Poppies initiative, CWL staff and families started creating poppies some months ago. A few grew into a field and we decided to ask the community to help us make a poppy for every serviceman and woman from Orange and surrounding districts. Want to help? Download your Poppy Pack, hand make one or more knitted, crocheted, sewn or felted poppies and drop in to the library.
From the blog...
School Holiday Activity – I SPY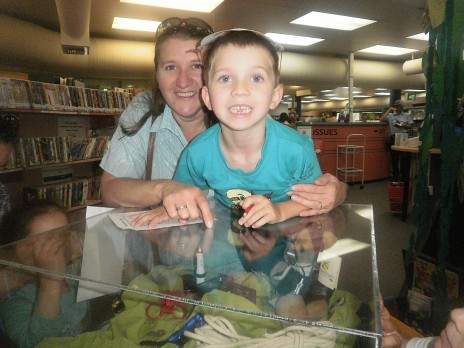 Louise  and Rohan Wythes enjoyed searching for hidden items in the glass I SPY display at the Orange City Library. It is part of the 'Summer Reading Club' activities which will be taking place at the Library over the school holidays.  Remember to pick … Read more…