Upcoming Author Talks 
Meet Bestselling Author Judy Nunn at Orange City Library Tuesday 26 September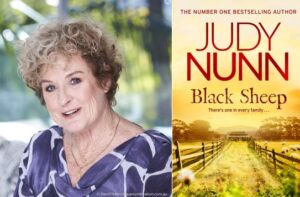 Please note the Cowra event to be held at Club Cowra at 10.30am is now Booked Out. There are still places available at Orange City Library for Judy Nunn's 5.30pm talk. *
Meet bestselling author Judy Nunn when she launches her latest book Black Sheep at Club Cowra (formerly Cowra Services Club located at 101 Brisbane Street, Cowra) on Tuesday 26 September at 10.30am and Orange City Library at 5.30pm. Judy Nunn's new blockbuster is a sweeping historical novel about a prosperous sheep-farming family and the enigmatic young man with a dark past they let into their lives . . .Black sheep – there's one in every family . . .
Judy's novels always bring Australian history to life, and this novel begins with the Shearers' Strike of 1891 and the early days of the unions (and foundations of modern Labor Party). The backdrop of the novel is the Australian sheep industry, spanning from Queensland to Goulburn. Judy Nunn has had a hugely successful stage and screen career in Australia, and is recognised for her roles on Sons and Daughters, Prisoner, and of course Home and Away. She turned her hand to prose 30 years ago, and has written 17 novels and a collection of short stories. We look forward to welcoming Judy to the Central West! Please book your place online or call Cowra Library on 6340 2180 or Orange City Library on 6393 8132. Judy's events are supported by Collins Booksellers, Orange. Copies of Black Sheep will be available for purchase on the day and Judy will be happy to sign copies for you. 
Orchids of Central Western NSW – Identification, Biology, Conservation Book Launch Tuesday 17 October 5.30pm at Orange City Library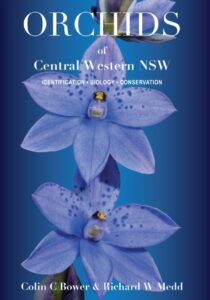 This book by Colin Bower and Richard Medd is the first comprehensive guide to the native orchids of Central Western NSW. One hundred and thirty seven species and three hybrids are described and illustrated with high quality photographs for ease of identification. 
Few residents of Central Western NSW are aware of the rich native orchid diversity on their doorsteps. This volume of 272 pages aims to change that by providing a guide to the species in the region; showing how to identify them, and when and where to observe them. The 40 page introduction provides a glimpse into their fascinating biology, ecology and habitats, intriguing pollination strategies and an analysis of their regional conservation status.
"This book is fabulous, the best field guide I have ever looked at…… It is a marvelous addition to Australian Orchidology." David L. Jones
"…..beautifully written and illustrated and will surely set a new benchmark for regional field guides." Lachlan M. Copeland
Book your place online or call Orange City Library on 6393 8132 to book your place for this wonderful event on Tuesday 17 October at 5.30pm.  Books will be available for purchase at $35 each – cash only. 
Meet Activist Hannah Diviney launching i'll Let Myself In Wednesday 25 October at 5.30pm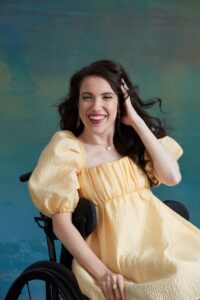 Disability activist Hannah Diviney – launches her latest book I'll Let Myself In on Wednesday 25 October at Orange City Library at 5.30pm.
"Brilliant, bright, defiant, moving, contagious. Hannah's flame leaps from the page straight into your soul. May it spread like a brushfire. This book is the proof point that disability does not mean deficit.' – Grace Tame.
'I adored this powerful story of a disabled life, painted with all the colours that only lived experience can provide. Hannah writes with such warmth, humour, and grace, and her voice is so important.' – Kay Kerr, author of Love & Autism .
Hannah Diviney has always wanted to be a writer and she always thought this would mean telling other peoples stories. As it turns out she needed to tell her own story first. I'll Let Myself In is Hannah's attempt at figuring out what it's meant to come of age as a disabled woman in a world not built for her.
I'll Let Myself In was written as a counter to the challenges she's experienced since childhood, left behind by never seeing herself (or anyone like her) represented anywhere. Not in movies or television. Not in books or games, or in the toys kids could eagerly pluck off shelves. I'll Let Myself In is a deeply personal essay collection that unpacks what it has meant for Hannah to grow up in a world where people like her weren't relevant or seen.
She's had to navigate medical trauma, internalised ableism, inaccessibility, and the long-lasting impacts of limited representation. Beyond that, this is about finding her voice socially and politically. It's almost a journal in real time of a twenty-something woman coming to terms with all of she is – the good, the bad and the ugly bits. This is Hannah's heart in ink on paper (sprinkled with pop culture references).
This event is supported by Collins Booksellers, Orange and books will be available for purchasing and signing on the night.  Please book your place online or call Orange City Library on 6393 8132 for what promises to be a wonderful entertaining and uplifting event. 
Meet Bestselling Author Amanda Hampson at Orange and Cowra Libraries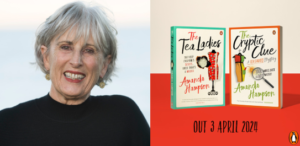 Amanda Hampson will talk about the 'lightbulb' moment that inspired her to write her bestseller, The Tea Ladies, and turn it into a series. She will also share how she created characters and the 1960's setting, drawing on personal experience and extensive research, and why she thinks older women deserve more starring roles.
Meet Amanda Hampson – bestselling author of The Tea Ladies on Sunday 12 November Orange City Library at 2pm and please book your place online to meet Amanda at Cowra Library on Monday 13 November at 10.30am or call Cowra Library on 6340 2180.
At Forbes Library Meet Authors Pamela Cook and Penelope Janu Wednesday 25 October at 2pm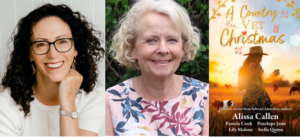 Author Pamela Cook writes women's fiction set in places you'll want to escape to and books that will keep you turning the page. Her novels feature tangled family relationships, the ups and downs of friendship, and explore issues like grief and loss, belonging and love. They plan to tug at your heart-strings so if you cry while you're reading Pamela's books – her goal is achieved! But don't worry – there will also be a hopeful ending.
And Penelope Janu writes stories about clever and adventurous women who don't mean to fall in love, but do.
The pair will be at Forbes Library to discuss their latest work A Country Vet Christmas – a heartwarming collection of five brand-new festive stories from favourite Australian authors about country vets, love and small-town Christmas charm. This event is supported by The Book Dispensary, Forbes. Please let us know you are coming along by calling Forbes Library on 6852 1463 of book your spot online. 
Meet Author Dr Gregory Smith at Orange City Library on Wednesday 22 November 2023 at 5.30pm – 7pm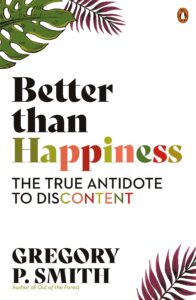 Gregory Smith explains how after a decade living as a recluse in a rainforest he rejoined society and found something better than happiness – contentment. And how you can find contentment too if you just stop trying to be happy.
'There's a realm beyond happiness that very few people inhabit. Follow what I've done and you may one day enter it. It's a wonderful place called contentment.'
When Gregory Smith stumbled out of a New South Wales rainforest in 2000 he was close to death after living as a hermit in the wild. Determined to turn a wretched life into one worth living, Gregory stripped himself bare emotionally, psychologically and spiritually to undertake an extraordinary personal reconstruction.
Today, with a PhD to his name and a loving family by his side, Gregory has overcome a life of homelessness and despair to become one of society's great teachers. He is a senior lecturer in the social sciences at university, a government policy advisor and an advocate for the dispossessed and downtrodden the world over. And yet he doesn't consider himself to be happy. 'It is far more attainable, satisfying and fulfilling,' says Gregory, 'to simply be contented.'
In this insightful and empowering book, the author of Out of The Forest shares the mental strategies and practical steps he took to go from a friendless and futureless man to 'the most contented person I know', and how they can help you turn your life around, too.
Started Out Just Drinking Beer: The Mental as Anything Story written by Stuart Lloyd Book Launch at Orange City Library Wednesday 29 November at 5.30pm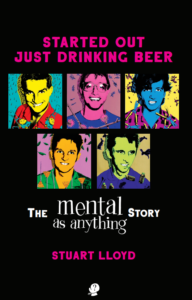 Discover the riotous rollercoaster ride of one of Australia's greatest bands from 1976 – 2019!!! when Stuart Lloyd lifts the showbiz curtain to reveal the band Mental As Anything!!!
The Mentals went from the top of a pool table to the top of the charts. Enjoy the untold stories behind Aussie classics like: Live it Up, Too Many Times, If You Leave Me Can I Come Too?, Berserk Warriors, Egypt, The Nips Are Getting Bigger, and a whole lot more. Plus tales from the road as told by Greedy, Martin, Bird, Pete & Reg – and a star-studded cast including Colin Hay, Richard Gotterhrer, Mark Opitz, and Wreckless Eric – in I this access-all-areas official biography.
"Love it!!!! Brought up lots of memories. Thoroughly enjoyable." Kirk Pengilly, INXS.
"This book gives us a big gulp of one of Australia's most uniquely talented and popular bands." – Anthony (Tony) Field, The Cockroaches, The Wiggles.
"Takes us behind the showbiz curtain. A deep-dive beyond the colourful personalities and the larrikin-esque cheerfulness of a uniquely Australian band who have been the soundtrack of our lives for decades. Had me glued to each page." – Jane Gazzo, music journalist and broadcaster.
Stuart Lloyd has interviewed the likes of Paul Kelly, Bic Runga, and REM, on songwriting, and his travel and music features have appeared in publications such as Variety (US), The Australian, The Sydney Morning Herald, and Songsmith. This is his 19th non-fiction book, and The Telegraph (UK) described him as "The Perfect Stroyteller!"
Come along to Orange City Library to meet author Stuart Lloyd and hear the stories behind the band Mental As Anything. 
Save the Date: Local Author Kim Kelly Launches New Book: "A Special Project".
Join us at Orange City Library on Thursday 14 December for a special event that we can't tell you much about…just yet. So Save the Date and wall will be revealed soon.
Save the Date: Orange Readers and Writers Festival 2024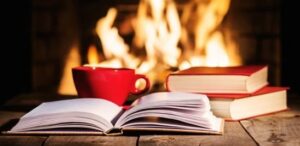 Join in the 8th Annual Orange Readers and Writers Festival on Saturday 3rd August 2024 with a line-up of incredible authors including author, radio host and broadcaster Indira Naidoo author of The Space Between the Stars.