Contact Details:
2 Victoria Lane
FORBES NSW 2871
Ph or Fax: 6852 1463
mailto: [email protected]
Hours of Opening:
Monday – Thurs: 10am – 12 noon, 1pm – 5.30pm
Friday 10am – 12 noon, 1pm – 5pm
Saturday 10am – 12 noon
---
Forbes Library is located adjacent to Victoria Park in the historic Literary Institute and School of Arts building. It is a service of Forbes Council.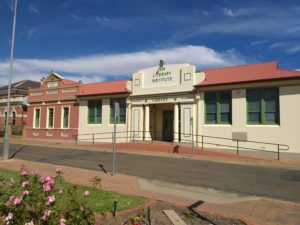 Collections:
Forbes Library carries a wide range of:
books for adults and children
non-fiction books for adults and children
Audio books
Magazines
Large print materials
Newspapers
DVD collection for adults and children
Music CDs
and a Ready Reference collection suited to homework and general needs. This collection includes dictionaries, encyclopaedias, general reference books, legal information  Find Legal Answers – State Library of New South Wales , drug info @ your library information. The Reference collection is not for loan.
Library staff can also undertake research for information not available through the library's general collections and arrange for the loan (see FAQ) of specific books or articles available at other libraries.