Category Archives:
Display
20 Years in Fred's Footsteps Display
Check out this Fred Hollows display and discover what it would be like to view the world with cataracts. Twenty one years after Professor Fred Hollows passed away, Orange City Library is hosting a special touring display that celebrates the life and work of the late eye surgeon. It will be on display in the library from December 9, 2013 to January 7, 2014.
Professor Hollows' widow, Gabi Hollows, hopes the exhibition will offer the public an opportunity to learn more about Fred's dream of eradicating avoidable blindness and improving Indigenous health. It will be on display in the library from December 9, 2013 to January 7, 2014.
Waste to Art Travelling Display
The SIMS Metal Waste to Art program is celebrating with a travelling poster display of winning entries. Through the program, thousands of people across the Central West – from pre-school aged children to professional artists – have tried their hand at turning junk into creative masterpieces. Along the way they've saved tonnes of scrap from landfill and helped challenge people's perceptions about 'rubbish'. Posters are on display at Orange City Library until 28  November.
Take me to Your Reader.....
This year's Children's Book Week theme Read Across the Universe has inspired our current Library display including words from this little alien………….
Children's Book Week 2013: Read Across the Universe
Read across the universe is the theme for Children's Book Week August 17 – August 23, 2013. We have all the books nominated for awards this year on display ready for you to reserve then to take home and read at the end of Book Week. Check out the display in the library including our mini solar system and why not read up on all things space, planets and universe.  Book Week is the longest running children's festival in Australia, celebrating its 65th birthday in 2010. Each year, many schools and public libraries from all over Australia spend a week celebrating books and Australian authors and illustrators.
For more details about the winning books go to www.cbca.org.au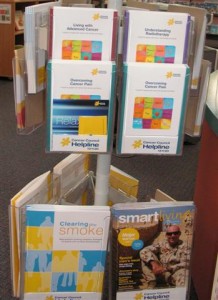 Cancer Council Info At Cowra Library
Cowra Library has put together an extensive display of
Cancer Council resources and Library materials to support the 2013 Relay
for Life being held at Sid Kallas Oval, Cowra 11-12 May.  The event includes the Survivors Walk and the Candlelight Ceremony of Hope.  To check all the Relay details go to: http://relay.cancercouncil.com.au/2013/cowra_and_district
Ladies from the Cancer Council  renewed the Library's
information stand and will highlight the details in upcoming promotions. Good luck in the Relay everyone and thank you for supporting the Cancer Council.