Ghost Jam is coming! Music and Storytelling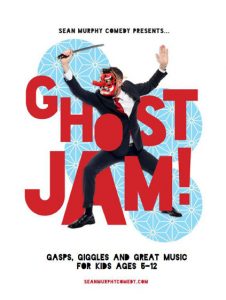 Kids: they love sounds that go "BOOM!" and ghosts that go "BOO!" Enter Ghost Jam, the second family comedy from Sean Murphy (Edinburgh Fringe, Opera House). Ghost Jam enthrals adults and children alike with its pairing of booming music and silly, spooky storytelling.
For children aged 5 to 12 years. Performance takes place at 10.30am and ends at 11.30am on Monday 23 January 2017 at Orange City Library then the Storytelling Workshop from 11.45am to 12.30pm. Please book your place on Eventbrite.com all call the Library on 6393 8132.