Waste 2 Art Competition and Exhibition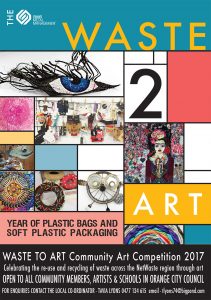 View the entries in this year's Waste 2 Art Community Art Competition and Exhibition for 2017 at Orange City Library from Friday 26 May to Saturday 10th June.  This year's theme is "Year of Plastic Bags and Soft Plastic Packaging".
This community art project is a great opportunity for aspiring and professional artists, schools and community groups to showcase their artistry and creativity, by celebrating the reuse and recycling of waste through arts and crafts, and to share their waste reduction message. For more information about the competition contact coordinator Tavia Lyons on 0477 134 615.