Library Lovers' Day 14 Feb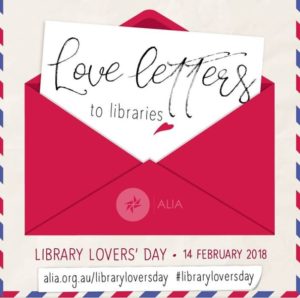 Move over St Valentine's because 14 February is also Library Lovers' Day and Central West Libraries will be celebrating. We are encouraging members to write a love letter to your library and tell us why you love it.
Library Lovers' Day is a chance for everyone to reconnect with the library and share the library love. The initiative, coordinated by the Australian Library and Information Association (ALIA), aims to raise the profile of the services which libraries offer. Australia's public libraries provide quality information services that support lifelong learning, significantly impacting the cultural and information industry.