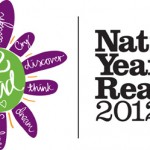 To celebrate the National Year of Reading 2012, Central West Libraries will be hosting a 24 Hour Read starting on Wednesday, 12 September 2012 across the local government areas of Orange, Cabonne, Blayney, Cowra and Forbes.
The 24 Hour Read will capture the stories of people, schools, organisations and businesses reading in their own environment in 10 minute timeslots from 11am on Wednesday, 12 September 2012 to 11 am Thursday, 13 September 2012.
It doesn't matter what you read: a book; a newspaper; a street map; a reference manual; a timetable; a letter or report; you can read anything you choose – including an audio book!
The photos and stories of the 24 Hour Read will be uploaded to the Central West Libraries' Facebook page throughout the day to show that we are a reading community. You are invited to participate by completing the 24 Hour Read – Registrations form nominating a 10 minute timeslot within that time and forwarding it to:
24 hour Read
Central West Libraries
PO Box 35,
ORANGE NSW 2800
or email [email protected]

We will then send you further details. Have any 24 Hour Read – FAQs? We look forward to your participation in this exciting event, and please invite others to be involved! Should you have any queries regarding this fun activity, please contact Jennifer Derrick on 6393-8142 or [email protected]