One Library, One Book will return in 2022
In 2021 we read: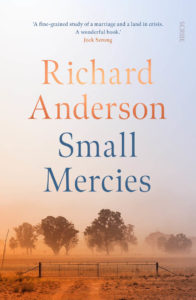 Small Mercies by Richard Anderson is the latest title in our community reading project- One Library, One Book.
Borrow your copy from your local Central West Libraries branch, and enter into a region-wide book discussion.
We will have events across the Central West, opportunities to meet the author, and a chance to enter a discourse on the complexities of life and relationships in a rural setting. Written by emerging Australian author Richard Anderson, this is a book we're all talking about.
Join the conversation on the specially created Facebook page and post photos with the book and share it on social media using the hashtag #onelibraryonebook