Category Archives:
National Year of Reading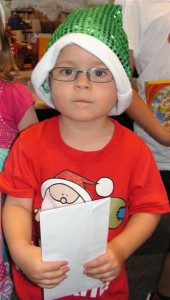 And the number of links in the chain is .....
All year we've been watching the National Year of Reading Amazing Paper Chain grow and grow and grow with a link added for every book read, and yesterday was the grand finale.  With help from our party guests, the number of links was tallied. And the total was …..5852!!!!!! That's amazing!!!  Congratulations to Connor, Piper and Patrick who won book vouchers for their close guesses and roll out the red carpet, fanfare and applause to all our readers who added links throughout the year. It was a mighty effort!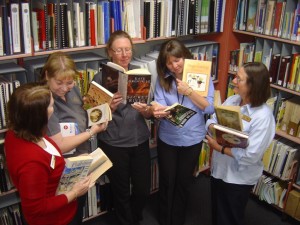 10 Aussie Books to Read Before You Die
Last night the results of the 10 Aussie Books to Read Before You Die search by the ABC were revealed. The possible outcome had been the subject of much discussion by Library staff during this, the National Year of Reading. At our regular staff meeting today we poured over the list of winners and counted how many of the top 10 each of us had read.
I don't think any of us were surprised by the 1st and 2nd pace getters – though some of us may have reversed the order! Read more…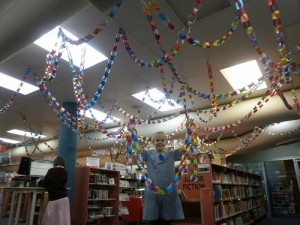 Amazing Paper Chain party
Portia and the Amazing Paper Chain
On the 18th December Orange City Library will be hosting a children's party to celebrate the very successful Amazing Paper Chain promotion for the 2012 National Year of Reading.
Throughout the year the library has been inspiring children to read more and win prizes by completing a link for the colourful chain decorating the ceiling. Each link signifies a picture book, one chapter or twenty minutes of reading. Read more…
One Farm Day
The latest blog entry by our National Year of Reading Writer in Residence, Sophie Hansen, is now available to read. This One Farm Day post Sophie is exploring the life of Todd Ferguson, an egg farmer from Dunedoo.
Next week we'll be working with the NSW Department of Primary Industries to talk about the Writer in Residence project at the Australian National Field Days at Borenore. If you're there be sure to call in and share your memories of life on the land at the DPI paviliion.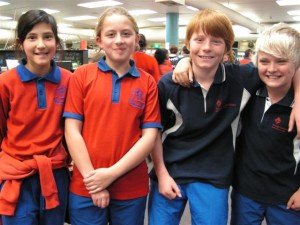 Orange Christian School Visit
A big shout out to all the students at Orange Christian School, especially those who joined in our recent Library tour. They were entertained with stories by Fiona – our resident Storyteller and Local Studies Librarian Peter talked about the Library resources that may come in handy for school including the Homework Help Desk and the online Your Tutor service, as well as finding books to read for fun. We look forward to seeing you in the Library and don't forget we are open during the School Holidays. Pictured are Aisling, Isabella, Nathaniel and Lukas enjoying their library tour. See you soon!