Last night the results of the 10 Aussie Books to Read Before You Die search by the ABC were revealed. The possible outcome had been the subject of much discussion by Library staff during this, the National Year of Reading. At our regular staff meeting today we poured over the list of winners and counted how many of the top 10 each of us had read.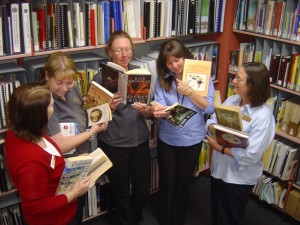 I don't think any of us were surprised by the 1st and 2nd pace getters – though some of us may have reversed the order!
So starting from number 1:
Cloudstreet – Tim Winton
The Book Thief – Markus Zusak
A Fortunate Life – A.B. Facey
The Harp in the South – Ruth Park
The Power of One – Bryce Courtenay
Jasper Jones – Craig Silvey
The Magic Pudding – Norman Lindsay
The Slap – Christos Tsiolkas
The Secret River – Kate Grenville
Picnic at Hanging Rock – Joan Lindsay
If your favourite isn't on this list the ABC's First Tuesday Book Club web site lists the top 50 – maybe it's there. And to answer your questions, YES, these titles can all be borrowed from Central West Libraries.
Happy Reading