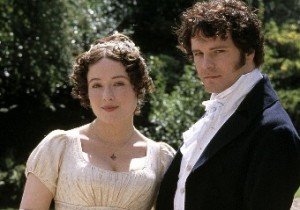 Happy 200th Anniversary Pride and Prejudice
What would Jane say? Who would she prefer as Mr Darcy? Colin Firth or Mathew Macfadyen? This week marks the 200th anniversary of Pride and Prejudice being published – Jane Austen's classic love story about Elizabeth Bennet and Mr Darcy. It's incredible we are still talking about the novel today but film and TV versions have certainly helped like Colin Firth and Jennifer Ehle in the BBC adaptation and Mathew Macfadyen and Keira Knightley in 2005 film version. 
And read Helen Garner's comment on the Austen phenomenon at the SMH:  http://www.smh.com.au/entertainment/books/pride-and-joy-20130124-2d82c.html And here's an interesting take on it all from the UK: http://metro.co.uk/2013/01/28/our-200-year-love-affair-with-elizabeth-bennet-3368732/ The best way to celebrate is to read the book! Or watch the film and TV versions…. Enjoy!
The Slap author Christos Tsiolkas on ABC TV
We told you when our Pageturners book club read The Slap, we told you when it won the Commonwealth Writer's Prize, the Australian Book Industry Book of the Year award, the Victorian Premier's Literary Award, the ABA Book of the Year, and the Association for the Study of Australian Literature Gold Award. And we told you when it was being filmed for TV.
Well it's almost here. It starts Thurs 6th Oct ABC TV at 8.30pm (see promo photo) and each episode is told from the point of view of a main character – just like each chapter in the book.Check out all about it on the ABC website: www.abc.net.au/tv/theslap/
In essence this is the story: at a suburban barbecue, a man slaps a child who is not his own. This event has a shocking ricochet effect on a group of people, mostly friends, who are directly or indirectly influenced by the event.
In the meantime you can see the author on ABC TV tonight Jennifer Byrne Presents: Christos Tsiolkas. His previous book titled Dead Europe, is being made into a feature film, and he's just completed the first draft of his next novel. Don't miss this candid and thoughtful interview with one of this country's most important writers. Tonight 10pm ABC 1.
Food Art Shelter - Orange-ites can do anything
First there was MasterChef with Orange mum Kate Bracks taking out the crown (or apron so to speak), then there's the Children's Book Award with local illustrator Freya Blackwood winning the Early Childhood Book of the Year for her illustrations in Maudie and Bear written by Jan Ormerod and now there's Waz – Warwick Jones a former Orange lad and his partner Polly Porter have won this year's series of The Block on Channel Nine. It seems Orange is a breeding ground for talent and likeable souls. Let's put it down to the fresh crisp air, wonderful food and produce, the ambience, the relaxed way of life, education, country living, scenery, culture etc…..read more about Polly and Waz in this CWD article:
http://www.centralwesterndaily.com.au/news/local/news/general/chips-off-the-old-block/2265236.aspx
Kate Wins MasterChef! Congratulations!
Who would have thought it would come down to making a "Snowman" or four? and coming from Orange, we think Kate may have had a slight advantage with that! Copenhagen chef Rene Redzepi from the best restaurant in the world – Noma – set the challenge with a meringue, yoghurt, passionfruit and carrot sorbet dessert snowman. And she did it! Congratulations Kate!
Check out the recipe for Kate's invention test dish which won her those extra points – Quail with Roasted Garlic Custard, Asparagus Duxelle and Hazelnuts on the MasterChef website.
http://www.masterchef.com.au/quail-with-roasted-garlic-custard–asparagus-duxelle-and-hazelnuts.htm
And if you want to become the next MasterChef or just want to be inspired in the kitchen come in and check out our wide range of cookbooks.
The Librarians Return to ABC Wed 13 October 8.30pm
Just when you thought The Librarians had moved on … head Librarian Frances O'Brien (Robyn Butler) returns (Ha!) and library life has never been more laughable. The third instalment of the highly successful ABC TV comedy series, The Librarians, features on the small screen on ABC Wednesday 13 October at 8.30pm. While Frances' relationship with husband Terry (Wayne Hope) has improved, Frances is still having a hellish time, and for once it's not all of her making. Adding to her woes, morale at the Middleton Interactive Learning Centre is at a new all time low. In order for it to stay open, a high ranking government official (Angus Sampson) is forcing the library to run as a profitable business. This latest initiative could spell the end for the library. Check out this behind scenes look with Sir Robert Franklin (as only he can) and you'll notice comedian Tony Martin
join Wayne Hope behind the camera as director. For more on the series head to the official website http://www.abc.net.au/tv/librarians/#