School Holiday Activities at Orange City Library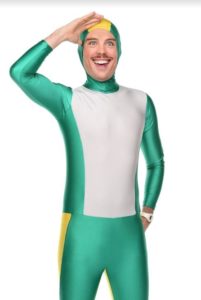 Sean Murphy is back and he is running the world's best games for kids at Orange City Library during the school holidays on Thursday 19th July at 10.30am. He will lead kids on an hilarious interactive exploration into the best games from around the world. Audiences will learn a little and laugh a lot in a show that takes history, play and silliness to new heights. Following the show he will host an interactive workshop where kids can create games of their own. Tickets for the Performance 10.30am – 11.30am are $5, and $2 for the Workshop from 11.45am to 12.30pm.  So to go to both the Performance and Workshop is $7. The Performance and Workshop is for children aged 6 – 12 years. Parents do not need to pay if they wish to stay with their children. Please book your place online through Eventbrite.
Boardgame Days
Orange City Library will also be hosting Boardgame Days during the school holidays on Wednesday 11th July and Wednesday 18 July from 9am to 3pm. This is for everyone aged 8 – 90 and is a free event with no bookings required. We will have roving librarians to help people with boardgames. So come in and try a new boardgame.