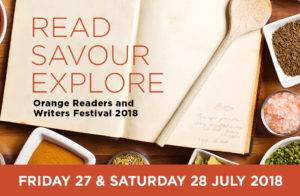 Food and travel combine to make a mouth-watering theme for the Orange Readers and Writers Festival on Friday 27 and Saturday 28 July 2018 at the Hotel Canobolas. Be ready to be entertained by the fabulous Monday Morning Cooking Club – a group of dynamic Sydney women who meet each Monday to test recipes and chat about food.
The Paris dreamer Katrina Lawrence will take us on a journey to the city of light to meet the residents who have inspired us. We will nourish body and soul with Margaret Fulton's granddaughter Louise Keats and her new book Sweet Nourish. Jacqui Newling is the resident gastronomer at Sydney Living Museums who uses food as a means of communicating our history and heritage. She will be delving into the world of our first fleet ancestors through food. To round out our table of speakers we have invited author Anthony Hill to talk about his book Captain Cook's Apprentice and Cook's foodie adventures. And you can also meet Better Reading's Cheryl Akle.
And for writers we have a blogging e-newsletter workshop with Local is Lovely blogger Sophie Hansen. We also have an all day seminar with the History Council of NSW talking food and travel. And we will also be announcing the winners of the Banjo Paterson Writing Awards. So come and join us for what promises to be some mouth-watering literary delights. Program and bookings here. Early-bird tickets close 30 June.