Orange and District - A History in Pictures by Robert Bartlett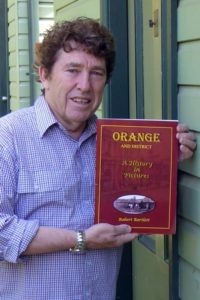 Join us when Orange Mayor Cr Reg Kidd launches Orange and District – A History in Pictures 2 by Robert Bartlett. It is a hardcover coffee table book consisting of 138 pages with over 500 black and white, and colour images. The photographs are captioned with a wealth of information including some new found history. The photographs date from the 1860s to the 1960s and most have never been published previously. Page titles include: Coaching Days, Parades, Stately Homes, On the Outskirts, Summer Street, East of the Line, Blacksmiths etc and many more.
The book launch will be held on Wednesday 28th November at 5.30pm at Orange City Library. This event is sponsored by Orange City Council and supported by Collins Booksellers, Orange. Please RSVP online through eventbrite or if you have problems accessing the internet call the Library on 6393 8132.