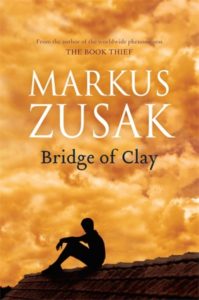 The December read for Pageturners is Bridge of Clay by Markus Zusak. It will be the book for discussion on Wednesday 12th December at Orange City Library at 5.30pm.
Markus Zusak makes his long-awaited return with a profoundly heartfelt and inventive novel about a family held together by stories, and a young life caught in the current: a boy in search of greatness, as a cure for a painful past. He is the bestselling author of six novels, including The Book Thief and The Messenger. His books have been translated into more than forty languages, to both popular and critical acclaim. He lives in Sydney with his wife and two children.
Please let us know you are coming along to the discussion by booking online through eventbrite.   If you are having problems with the access to the internet please RSVP to Jasmine on 6393 8125.