Meet Entrepreneur Julie Ankers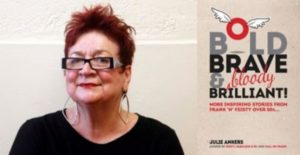 Join us for our author talk with the dynamic Julie Ankers. In her latest book Bold, Brave & (bloody) Brilliant, she has writers offering insights into their lives and what keeps them motivated. This is 3rd book in her a trilogy on life for the 50+ years. Meet Julie at Orange City Library on Friday 23 April at 1pm.
Or come along to Julie's workshop – Your Life by Design. Evaluate the life you had pre-COVID and then redefine and design the life you want!! It is free and there are limited places. The Workshop will be held in the West Room, next door to Orange City Library on Friday 23 April 9.30am – 11.30am.