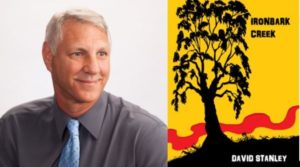 Ironbark Creek by local author David Stanley is set in the near future as COVID-25 races across the world.
It is about Cathy, an Indigenous woman and nurse from Wellington. She and Jack, a stranger, struggle to find a safe place to survive the growing difficulties as the 'turned' ravage the local community and the world.
The vaccine, the cure, is thought to have caused the problems humanity now faces.
The book is set in the Orange, Bathurst, Dubbo area and Cathy and Jack go to Ironbark Creek (a small fictional town) to establish a home and build a community that can survive the challenges that face them all as the dead, the 'turned', seek to destroy everything.
Meet David Stanley at Orange City Library on Wednesday 5 May at 5.30pm – 7pm. Please book your place.  See you there!