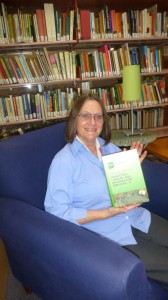 Hot off the press! Our Librarian Ros Dorsman has received a copy of a library textbook titled Marketing Library and Information Services: A Global Outlook in which she has written a chapter because she won the International Federation of Library Associations International Marketing Award in 2008 with the campaign "Have you done your homework?"
The chapter describes the experience to introduce CWL's online homework service delivered through the yourtutor service from Tutoring Australasia. "It is a thrill and an honour to be invited to contribute, especially since other chapters have been written by experienced colleagues from around the world," Ros said.
Central West Libraries is unique in being the only Australian public library that has won the IFLA International Marketing Award and came close to being the first ever second time winner in 2013 with the 24 Hour Read promotion!  WooHoo!