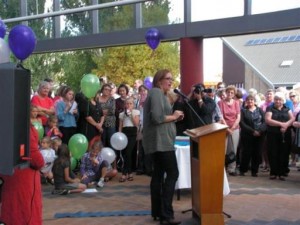 Everyone had a taste of the sweet life when the 2011 MasterChef Winner Kate Bracks, of Orange, launched her cookbook at Orange City Library on Friday afternoon.
Family, friends and the Orange community came out in droves to help officially launch her book, sip champagne, sample dessert treats from her recipes, be welcomed by Orange City Councillor Fiona Rossiter, hear from Kate's daughter Erin and from Kate herself and see her cut a magnificent cake (Bung in Chocolate Cake Recipe on p195) for the National launch of her cookbook The sweet life. 
Kate was genuinely stunned by the show of support and thanked many people for their efforts during her MasterChef crown challenge.  Nine-year-old Erin almost upstaged her mum when she said how surprised she was to learn her mother was going to be on TV instead of having a weekend away.
The team from Boomers Bookshop and ABC Centre were kept busy showing and selling the hardcover dessert books .  Thank you to everyone who came along.  Kate now begins her national tour. Good luck Kate! Check out more photos from the event here: http://on.fb.me/KatesBookLaunch