Internet Training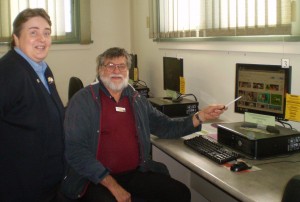 Tech Savvy Seniors Classes Come to Forbes
Do you need some fresh tips on how to best use the internet including email? Forbes Library is pleased to announce the first basic sessions in the Tech Savvy Seniors Program starting on Thursday 17 July.
Forbes Library Branch Officer Bronwyn Clark and trainer Michael Horth are preparing  Introduction to the Internet, and Introduction to Email sessions designed especially to suit the seniors in the community who are just beginning to dabble in the online world.
Forbes Tech Savvy Seniors Classes:
Thursday 17 July – Introduction to the Internet 10am – 1pm
Thursday 24 July – Introduction to email 10am – 1pm
Phone Forbes Library on 6852 1463 for bookings to guarantee your place.
Tech Savvy Seniors is an initiative of the State Library of NSW, NSW Ageing Strategy, the Telstra Digital Inclusion Strategy and Central West Libraries.
Internet Training at Canowindra, Cowra and Blayney
We are looking for community-minded people to join in our internet training sessions at Canowindra, Cowra and Blayney libraries at the following dates and times:
Canowindra on Wednesday 2 December at
10am 12.30pm or 1pm – 3.30pm.
Cowra on Tuesday 8 December at 8.30am 11am.
Blayney on Wednesday 9 December
10.30am 1pm or 1.30pm 3pm.
We are looking for people who want to improve their understanding of the internet who would then be able to pass on their knowledge through their community connections. The workshops cover an introduction to the Internet, using Internet Explorer, searching tips, favourites, links and toolbars, protecting your information on-line, using email and email attachments, an overview of social networking including Facebook and Twitter as well as on-line Library Services. The training is supported by an Australian Library and Information Association (ALIA) Learning Australia Grant. Please book your place at a workshop by calling Central West Libraries on 6393 8120.