Museums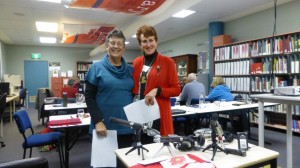 Oral History Weekend Great Experience
An Oral History Weekend Experience Seminar and Workshop  helped to inspire groups around the State to get working on their own oral history projects. People travelled from Canberra, Sydney, the Blue Mountains, Oberon and the surrounding local districts to join in the seminar and workshop.
We hosted the event with support from the Oral History Association Australia NSW and their trainers Trish Levido and Sandra Blamey with funding from a Country Arts Support Program Grant. The packed program included best practice standards, guidelines, review of digital equipment, interview, listening and narrator practice as well as planning an oral history project framework. Thank you to everyone who came along and we look forward to listening to your oral history collections in the future! For more information on courses check out the website: http://www.ohaa.org.au/
Orange has an active oral history group which meets at Orange City Library on the third Monday of the month at 10am.  The next meeting will be held on Monday 19th August.  All interested people are most welcome to attend.
Reminder: Have your Say - Museum Survey
Just a reminder to please complete our survey about museum activities. We plan to develop a regional museum to be co-located with Orange City Library and Orange Regional Gallery. Let us know your thoughts.
To complete the survey, copy this link into your web browser.
https://www.surveymonkey.com/s/Integratedculturalfacility
Thank you – your time is much appreciated.
Our Museum - Have Your Say
Orange City Council and the community are in the process of developing a regional museum which is proposed to be co-located with the existing Orange City Library/Orange Regional Gallery in the centre of Orange.
A regional museum:
* focuses on telling the stories about the history of the region
* is staffed by museum professionals
* has semi-permanent and temporary exhibition spaces
* practises high standards of care for collections.
The purpose of this survey is to capture community views relating to the activities of the regional museum which will assist its further development. The results of this survey will contribute to informing Council's Community Strategic Plan.
To complete the survey, click on the link below.
https://www.surveymonkey.com/s/Integratedculturalfacility
Thanks for your assistance.