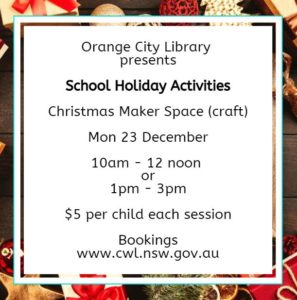 Children: Looking to make a last minute Christmas gift for Aunt Mildred because you spent all your pocket money on chocolate frogs?
Parents: Need more time to prepare for Christmas? (or lie on the couch – we won't tell anyone).
We are hosting a festive Maker Space in Orange City Library for children on Monday 23 December. It is a fun way to start the school holidays and get into the Christmas spirit.
There are two sessions for ages 8 – 16.
Morning 10am – 12 noon
Afternoon 1pm – 3pm
Cost $5 per child per session.
Bookings online or call 6393 8132.