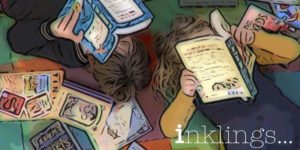 Inklings, Junior Book Club, Ages 8 to 12
Are you a bookworm? Just can't put a good story down?
Inklings – Junior Book Club
Thursday 10 October 2019
4pm-5pm
Book via eventbrite or call 6393 8132
Which is better – the book or the movie?
Ages 12 – 15
Second Wednesday of each Month
Starts Wednesday 9 October discussing Harry Potter and the Philosopher's Stone.
5pm – 6pm
Snacks, drinks and activities included
Book via eventbrite or call 6393 8132