The final Recipe Book Club at Cowra Library yesterday brought some surprises. Prior to the meeting on Tuesday November 20th, Caroline Eisenhauer, Cowra Branch Librarian spoke live on ABC radio with morning presenter, Angela Owens,  about the Club and the theme for the month which was CRY. Don't cry if you missed the interview, just visit your Library and find out what a cache of wonderful books and services are on offer in the lead up to Christmas.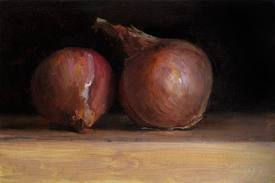 Cowra participants were not crying on the day of the meeting but there were lots of sad stories of Christmas recipe disasters. The consensus to a successful meal was keeping it simple, don't try something new and stick to Gran's handed down recipe. It was agreed the best recipes are those named after someone because they gave it to you and they work out every time you cook them.
The sad discussion led us to Dickens and "The Ghost of Christmas Past" aka "A Christmas Carol". Did you know there are hundreds of references to food in this story? And that Scrooge believed the appearance of the ghosts was due to food poisoning? We hope you don't get caught serving up bad food so you had better pop into the Library and get a good cook book like the Women's Weekly family barbeques. And don't get caught crying when peeling onions- sit them in the fridge beforehand! Now you can indulge yourself in a sumptuous recipe from Onions: a country garden cookbook by Jesse Ziff Cool- voted favourite book at the meeting.


The meeting concluded, naturally, with everyone eating – by tasting Caroline's  Gran's meringues, cooked by her daughter, and praised by all. The recipe is a family secret but the book club members liked the one in the 2012 Christmas edition of Australian Country Style.
So from all the recipe club participants at Cowra have a very happy Christmas and check with your local library for next year's Book Clubs.