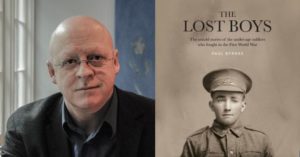 Discover the incredibly powerful and moving stories of the Anzac kids who lied about their age to fight in the First World War- a unique and deeply personal side of history told here for the first time more than one hundred years on.
Join us for the author talk with Paul Byrnes on Tuesday 26th November at Orange City Library at 5.30pm – 7pm about the untold stories of under-age soldiers in The Lost Boys. 
This event is supported by Collins Booksellers. Please book your place online via eventbrite or call the Library on 6393 8132.