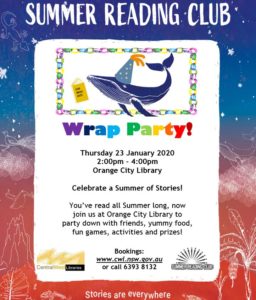 If you registered for Summer Reading Club it is time to get ready for the Summer Reading Club Wrap Party to be held on Thursday 23 January at Orange City Library from 2pm – 4pm.
You've read under shady trees, in handmade forts, and snuggled in bed with your pet. Maybe you've swapped favourite books with your friends, read aloud to your granny, or used a recipe to make super-duper-choccorrific fudge cake. You've read the map on your family car-trip, and the prices on the gelato menu.
Now, join us at Orange City Library to party down!
…..with friends, yummy food, fun games and activities (and prizes)!
Dress up as your favourite story villain and take your mugshot in the photo booth, pin the book on the bookcase, make a bookmark, and tell us about all of your reading adventures during the holidays.
All ages are welcome, although children under 8 must be accompanied by an adult.
Book your place online https://bit.ly/3750bkQ and be ready to party!