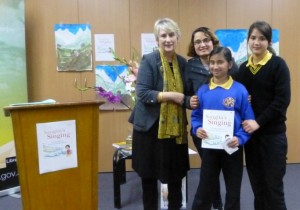 Thank you to everyone who came along and supported Libby Hathorn's book launch. Author Libby Hathorn was assisted by Jyoti Rishal and her daughters Suyasha and Binisha to launch Sangita's Singing at Orange City Library.
The book is the story of a young girl who travels from a small village to Kathmandu for school. Sangita loves to sing. But when she leaves her small village for school in the big city of Kathmandu, fear makes her lose her sweet voice.
Libby generously covered the publishing costs of the book so proceeds could support the Mitrataa Foundation with its education initiatives in Nepal.  She spoke about her love of poetry, reading and writing and passion for supporting education in Nepal.  The event was supported by Boomers Bookshop and ABC Centre.