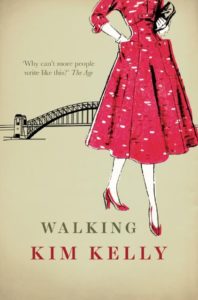 Meet Millthorpe-based author Kim Kelly launching her latest book Walking at the following Central West venues:
Blayney Library Tuesday 25 February at 11am
Bookings: 6368 2581.
Molong Library Wednesday 26 February at 2pm
Bookings: 6366 8404.
Cowra Library Thursday 27 February at 2pm
Bookings: 6340 2180.
Kim is a talented writer known for her Australian historical fiction and an experienced book editor, reviewer, and vocal advocate for Australian storytelling.
A novel of love, war and kindness inspired by a true story of medical genius and betrayal. Walking by Kim Kelly is a crisply told tale of bigotry and obsession, love and devastation, one that charts the path of a young woman finding her feet in the world, and the transformative power of kindness that drives her own ambition.
Kim is the author of 8 novels that explore Australian history, including the bestselling The Blue Mile, the acclaimed Wild Chicory and UK Pigeonhole favourite, Paper Daisies. Her stories shine a bright light on some forgotten corners of our past, leading readers with warmth, wit and lyrical charm into difficult terrain, through themes of prejudice, conflict and disadvantage – issues that resonate throughout world today.