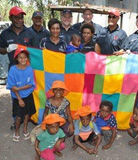 The weather forecast is for 10 degrees but it feels like about 5. So what better excuse is there to get knitting and sewing?  We've set a up a knitting nook in Orange City Library with wool, needles and squares started to help you create Wraps for charity.  We also have knitting instructions and bags of knitted squares ready to collect if you like to take them home and sew them together into a rug.  It is all part of the annual ABC Local Radio KNIT IN event that runs until 4th August.
The Library is also a drop off point for knitted squares during this time.  Donations of wool (8ply yarn) and knitting needles (4mm) would be much appreciated.
There are millions of people in the world suffering extreme cold. In 1992 Wrap with Love began with the idea to help as many people as possible by providing warm wraps to ward off hypothermia and in the past 20 years they have sent more than 300,000 wraps to people in over 75 countries, including Australia, with the help of hardworking and generous volunteers. Last year thousands of wraps were sent to Africa, Argentina, Armenia, Congo, East Timor, Ghana, Madagascar, Mongolia, Nepal, Philippines, Thailand and Uganda. The photo, courtesy Wrap with Love, shows rugs being distributed in Port Moresby, New Guinea.