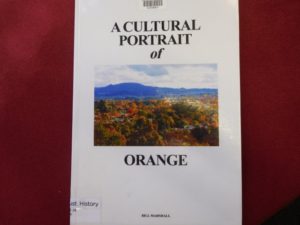 We would like to express our deepest sympathies to the Marshall family after the recent passing of former Orange Town Clerk, Bill Marshall.
He was also the author of A Cultural Portrait of Orange and this book was launched at Orange City Library to a huge gathering of family, friends and well-wishers. He said at the time "this proud and illuminating story must be recorded and passed on to the City of Orange and its residents as an important part of their heritage."
Mr Marshall's interest in and knowledge of cultural history emanated from his long and distinguished service to local government and in particular Orange City Council as Deputy Town Clerk from 1968 to 1971 and Town Clerk from 1971 to 1987.
This book is now available  in an electronic format as Bill requested for the benefit of the community. You can find it by searching the Library Catalogue and here is the link.
http://cwl.spydus.com/cgi-bin/spydus.exe/FULL/OPAC/ALLENQ/8292619/7594632,1
Vale Bill Marshall – an Orange advocate and gentleman.