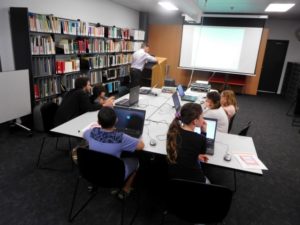 Code Club is an exciting 6 week after-school program creating games, animations, stories and more using Scratch and resources from Code Club Australia, and coding robots and little "insects" using simple electronics.
Please book in for each week – every Tuesday, 5-6pm starting 8 May through to 12 June. There are 6 sessions.
Requirements:
Age: Suitable for children aged 8-12years
Children must be comfortable using a keyboard and a computer.
Children under 8 must be accompanied by an adult.
Scratch Registration: When we are working with Scratch, participants need to create a Scratch account online to enable them to save their projects and access them at home.
Parents must be aware that your child will be accessing the Internet.
Hardware: We have six laptops. You are welcome to bring your own laptop to work with. It will need to have Scratch loaded for the Scratch sessions. We can do that in the library but it would speed things up if you can do this yourself.
Be aware that your child may have to work with another on a single laptop if there are not enough.
In these sessions, your child will have access to the Internet. Registering for this activity means you are giving permission for this.