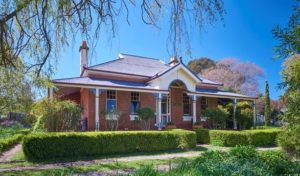 In celebration of Millthorpe's sesquicentenary in 2017, a committee of enthusiastic historians have compiled a book of Historic Homes of Millthorpe and District. It contains homes built between 1834 and 1934 that are located within the 2798 postcode area. Come along to a talk about the project including some wonderful photos of historic homes. Any profits from the publication will be going to the Millthorpe and District Historical Society. ​This is a joint project of the Millthorpe Village Committee and the Millthorpe and District Historical Society.
Book launches will be held at:
Blayney Library, Thursday 9th November at 6pm
Orange City Library, Wednesday 15th November at 5.30pm
Please RSVP via Eventbrite.com.au or call your local library.
The book will be available for sale at $80 per copy.