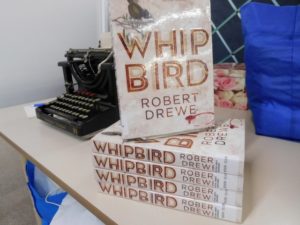 In Whipbird, Robert Drewe's tenth novel, which he describes as "comic and satire", cousins and aunts and uncles and their spouses converge on a vineyard to reminisce, romanticise and maybe to reopen old wounds.
"With a laugh and a rueful or frustrated nod on nearly every page, this is the finest satirical anatomy of Australia to be published for years." SMH Peter Pierce 29 Sept 2017.
Pageturners book discussion group rated this book mostly 3s and 4s out of 5.
Their comments included: "it covered all kinds of issues, he unmasked characters, it was good in parts, the ending was farcical, it's not until page 230 that something happens, loved the expression "stolen Nolan", found the characters quite amusing, unusual descriptions, Hugh was obnoxious and pretentious, deliberately full of stereotypes, liked Mick the best, intricate, liked the writing style, liked the language, imagery unusual at times, sometimes made me laugh out loud, and the story kicks in at the end." Therese included nostalgia, Catholicism, environment, myths and truths, bravery and redemption.
The next meeting will be held on Wednesday 8th November at Orange City Library from 5.30pm – 7pm to discuss the latest novel by international bestselling author Minette Walters The Last Hours.