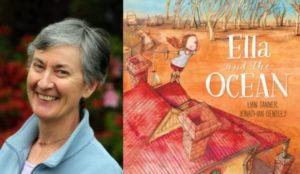 Meet Ella and her big brother Ben, from Ella and the Ocean.  Enjoy a fun-filled hour of finger puppets, story and song for 3- 5 year-olds at Orange City Library on Wednesday 3 February at 11am.
Lian Tanner is the 2020 NSW Premier's Award Children's Literature winner!!!  Please book your place (from Jan 28) online via eventbrite or call the Library on 6393 8132.
Storytime returns to Orange City Library for the school term on Tuesday 2nd February at 11am,  Wednesday 3rd February at 11am and with award-winning author Lian Tanner on Thursday 4th February at 11am. And remember COVID-19 health regulations apply – so please register, apply sanitiser and practice social distancing. See you soon.