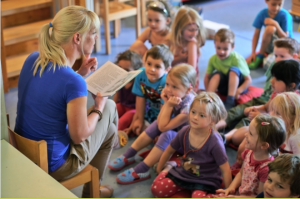 Children's events restart at the newly refurbished Orange City Library when it reopens on Monday 20th February.
1, 2 Books (New name for Baby Rhyme and Read & Baby Book Time)
Monday 20 February
10.15 -10.45am
We sing lots of songs, action rhymes and read some stories. Suitable for toddlers aged 1 – 2.
***
Ten Minutes A Day
Monday 20 February
10.15 – 10.45am
Ten Minutes a Day is an exciting programme to help you to develop your baby's pre-literacy skills and get them on the right track for reading and language development.
Ten Minutes a Day is a series of reading sessions that you share with your child of 0-1 that will help you develop skills to enhance language development, your child's imagination, and make reading to your child part of your everyday routine.
Each session includes rhymes, songs and simple stories; as well as tips for parents on how to include these into their routines at home.
They are also about having fun with reading, rhymes and games!
These sessions are limited to 12 participants.
Suitable for babies.
***
Storytime
Tuesday 21, Wednesday 22nd, Thursday 23rd February
Pre-schoolers can enjoy stories and craft at 11am with Storyteller Fiona.
***
Music For Little Ears
Wednesday 22nd February and Friday 24th February
10am to 10.20am
Initiate little ears to classical music, singing, percussion, dancing and musical games. Music is proven to stimulate learning and literacy. For age 0 – 5 years. Lead by Samantha Bartholemeusz from Orange Regional Conservatorium, supported Orange Regional Arts Foundation.
Bookings for all programs on Eventbrite.com or call the Library on 6393 8120.