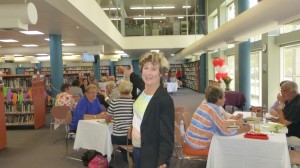 Judy Nunn celebrated the top spot on the adult fiction books sales list this week with a literary lunch at Orange City Library with her many fans. Judy, known for her TV role as Ailsa on Home and Away, and now as an author has sold over one million books worldwide. During lunch she spoke about Elianne, her new bestseller, a sweeping story of wealth, power, privilege and betrayal, set on a grand sugar cane plantation in Queensland.
In the tough world of Queensland sugar mills, it's not only cane that is crushed …In 1881 'Big Jim' Durham, an English soldier of fortune and profiteer, ruthlessly creates for Elianne Desmarais, his young French wife, the finest of the great sugar mills of the Southern Queensland cane fields, and names it in her honour.
The massive estate becomes a self-sufficient fortress, a cane-consuming monster and home to hundreds of workers, but 'Elianne' and its masters, the Durham Family, have dark and distant secrets; secrets that surface in the wildest and most inflammatory of times, the 1960s.
Judy talked about her love of Australian history and one audience member suggested she would enjoy writing about Orange with its rich historic links to the land and gold. We loved that idea! Thank you to everyone who came along and made it such a success and Collins Booksellers who supported the event.