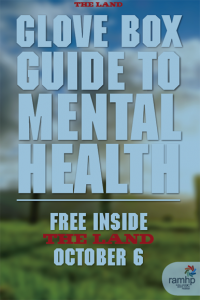 This month we are helping to launch the Glove Box Guide to Mental Health on Thursday 6th October at 10.30am at Orange City Library. The Guide is an initiative between The Land, the Rural Adversity Mental Health Program, and the Centre for Rural and Remote Mental Health.
The Guide helps reduce stigma and break down barriers. By sharing personal stories there is a greater awareness of mental ill-health and the fact that people can still live healthy meaningful lives.
It makes people aware of what to look our for, how to support someone who is struggling and how and where to seek help.
All interested people are welcome to attend. Please RSVP by calling the Library on 6393 8132.