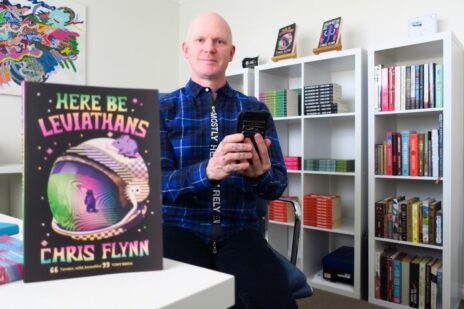 Discover a collection of funny, brilliant, boundary-pushing stories from the bestselling author of Mammoth – Chris Flynn.
A grizzly bear goes on the run after eating a teenager. A hotel room participates in an unlikely conception. A genetically altered platypus colony puts on an art show. A sabretooth tiger falls for the new addition to his theme park. An airline seat laments its last useful day. A Shakespearean monkey test pilot launches into space.
The stories in Here Be Leviathans take us from the storm drains under Las Vegas to the Alaskan wilderness; the rainforests of Queensland to the Chilean coastline.
Narrated in Chris Flynn's unique and hilarious style by animals, places, objects and even the (very) odd human, these short fictions push the boundaries of the form by examining human behaviour from the perspective of the outsider.
Meet author Chris Flynn on Wednesday 2 November at 5.30pm at Orange City Library with support from Collins Booksellers. There will be laughs and it will be fun!! Get writing and inspo tips too! Please register for the event online or call us on 6393 8132.