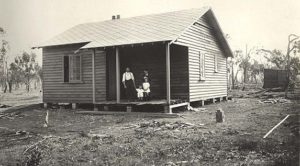 Orange & District Historical Society and Central West Libraries bring you a History Alive Talk on Soldier Settlements. Dr Selena Williams has examined the experiences of a small cohort of twenty men who took up land as soldier settlers in Orange and district after World War One.  Taking into account the experiences of these men, she will question if the Australian government's vision of supplying to returned soldiers, 'land fit for heroes' achieved all it was meant to. She will also discuss if the experiences of the men from Orange and district were different to other soldier settlers across New South Wales.
Speakers:
Trudi Mayfield: Centenary of WWI project in Orange
Dr Selena Williams: Soldier Settlement in Orange and District
Michael Caulfield: From Amiens to Armistice
A light supper will be served by members of the Orange & District Historical Society.
Wednesday 12 September, 6.30pm, West Room next door to Orange City Library
Bookings online through eventbrite or call 6393 8132.