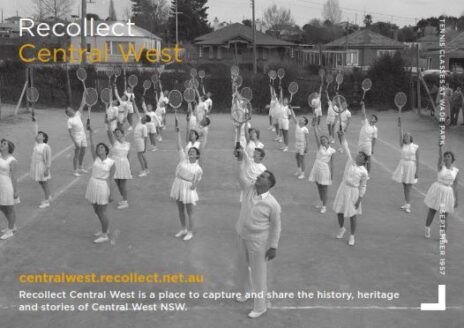 It is History Week and Central West Libraries is celebrating the theme Hands on History with the success of Recollect Central West – a digital platform where collections can be shared online.
Statistics show a total of 7,558 items including 767 documents and 6,646 photographs are on the Recollect site and there have been more than half a million hits since the March launch!!!!
The Top 10 items viewed were:
CWD Negatives
Orange & District Historical Society
Tourist Hotel
Construction of Orange Olympic Pool
Summer Street
Emmco Cadet Engineer
Maps and Plans
Celebrating Orange 75 years of Orange as a city and 175 years of Orange as a village
Read@yourlibrary
Orange Small Schools Association presents 2013 OSSA Schools Spectacular Mamma Mia, Not Another Musical
The community can register with the site, become a member, and contribute photos, stories and memories about the Central West as well as update information about who is in a photo or where it was taken. Or they can just search the site. Visit Recollect at https://centralwest.recollect.net.au/ It is a free community resource.