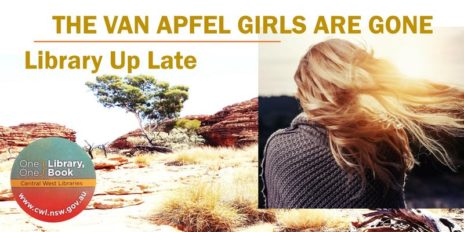 Join us after closing time at Orange City Library for our premiere Library Up Late event on Friday 19 July from 7pm – 9pm. As part of Central West Libraries' One Library One Book project we are exploring Felicity McLean's debut novel The Van Apfel Girls are Gone. Enjoy performances from the book brought to life by local actors.
An entertaining evening of storytelling awaits you. Experience this Australian bush mystery in a dramatic and immersive way. We ask the question: What really happened to the Van Apfel girls?
Following the performance, there will be an opportunity to interact with some of the more diverse elements of our library's collection, through an engaging installation of curated objects.
Refreshments from local producers will be served.
This event is for 18 years and over. Please RSVP via Eventbrite.com or call the Library on 6393 8132.