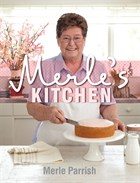 Merle Parrish Launches Merle's Kitchen
Wednesday 14th March
12 noon
Orange City Library
147 Byng Street, Orange
Please book on 6393 8132
Supported by the Hardback Cafe, Summer Street, Orange
Come along and meet Merle. She has been creating cakes for over 70 years and was undoubtedly one of MasterChef's favourite guests last season – the CWA prize-winning baker wowed contestants, judges and viewers alike with her incredible baking skills. Merle's Kitchen is packed with signature recipes, including the famous Peach Blossom Cake. This book is a must for everyone who wants to master baking from the champion. See you there!