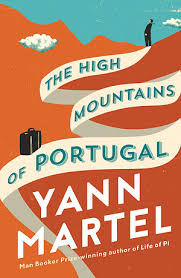 Pageturners Book Discussion Group meet on Wednesday 11th May at 5.30pm to talk about The High Mountains of Portugal by Canadian author Yann Martel who is best known for penning the worldwide bestseller Life Of Pi.
The High Mountains of Portugal—part quest, part ghost story, part contemporary fable—offers a haunting exploration of great love and great loss. Filled with tenderness, humour, and endless surprise, it takes the reader on a road trip through Portugal in the last century—and through the human soul.
Listen to an author interview ABC Radio Books and Arts: http://www.abc.net.au/radionational/programs/booksandarts/yann-martel-on-the-high-mountains-of-portugal/7143424
Please RSVP to 6393 8132 or go to Eventbrite.com.