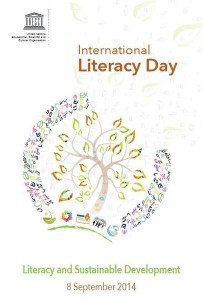 Literacy is a key lever of change and a practical tool of empowerment on each of the three main pillars of sustainable development:  economic development, social development and environmental protection. 
Former UN Secretary-General, Kofi Annan
Literacy skills developed from a basic to advanced level throughout life are part of broader competencies required for critical thinking, the sense of responsibility, participatory governance, sustainable consumption and lifestyles, ecological behaviours, biodiversity protection, poverty reduction, and disaster risk reduction.
– See more at: http://www.unesco.org/new/en/unesco/events/prizes-and-celebrations/celebrations/international-days/literacy-day/#sthash.RADCXbf1.dpuf
PS. It's also our Storytime theme this week – we'll be reading books about reading and fun with words.