Enjoy a free song writing workshop with ukulele teacher from Orange Regional Conservatorium Ken Smith. Learn how to write and perform an original song. Bring along a ukulele if you have one. Songwriting Workshop with Ken Smith, Wednesday 8th April 2pm – 3pm, Orange City Library.
Every pilot has to start somewhere. Create the most impressive, fastest, highest flying paper planes. Then test them out in a fun competition against other paper plane makers. Paper Plane Olympics, Thursday 9th April, 10.30am – 12 noon, Orange City Library.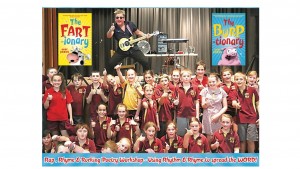 Author and performer Andy Jones returns to Orange City Library with a show filled with rap, rhythm and rock music. This is a popular and fun show for all ages. He has also released numerous books including The Adventures of Scootaboy & Skatergirl, The Ripper Razzle Dazzle Big Book of Fun, Hot Jokes for Cool Kids, and The Burptionary. See a great show with  Andy Jones, Orange City Library, Wednesday 15 April at 11am, Cost $5 per person, ph: 6393 8132.